Last week I spoke about how to build customer personas in order to market to them more effectively and nurture them along their buying journey, and today we are going to look at other things that you can do in order to keep them captivated and turn them from a prospect into a customer.
Regular readers of the blog will know that I speak about inbound marketing quite a lot, but just to refresh your memories, and to enlighten those who are not already in the know, inbound marketing is the creation of content that drives people to your website and helps them through their buying journey as opposed to putting yourself out there (often on a cold and lonely limb) with content that is not relevant or promoted at the wrong time.
To give a quick overview of what you are trying to achieve, the buying journey consists of six main steps and is a process that most potential customers will follow when making purchases.
(For the purposes of this blog, the above statement does not apply to the " I simply must have it" impulse moments we are all guilty of.) Good inbound marketing sees good content available at every step of the journey.
As I have been an advocate of inbound marketing in other blogs I won't repeat myself but instead give you a link to other Debut Marketing blog posts that are relevant to this one, and in particular, with reference to types of content…
…there are many pieces of content that you can give away throughout the buyer's journey, but much like the journey itself, these too must follow a logical path.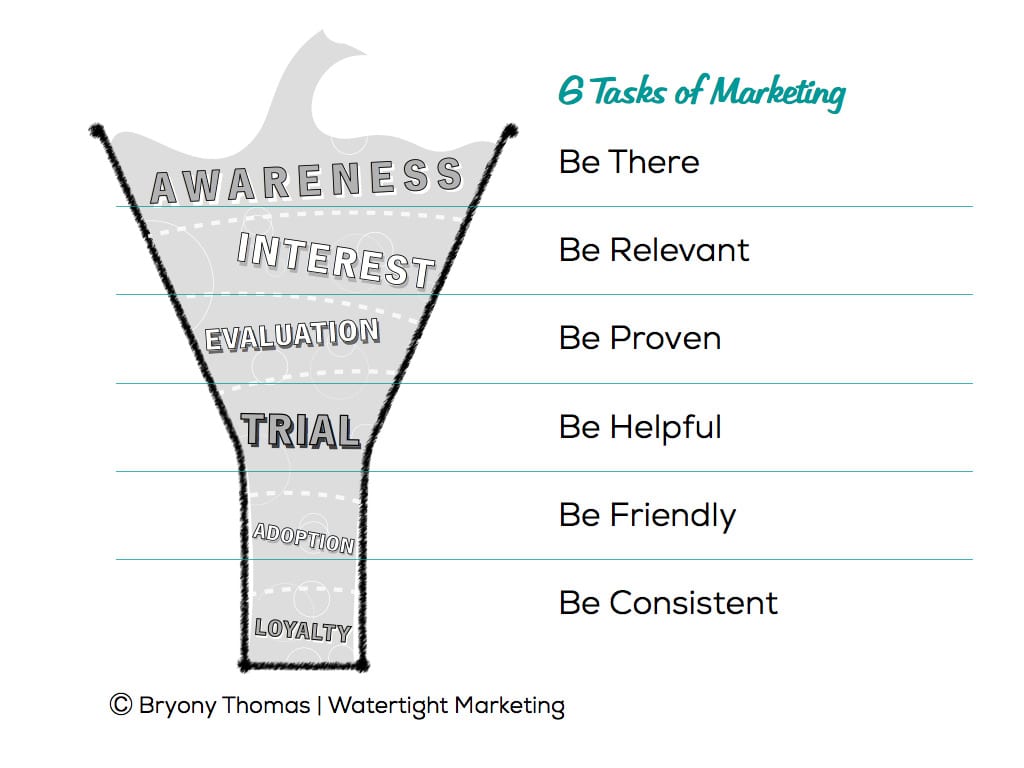 Looking at the graphic above you can see that your prospects become fewer as the journey goes on, reinforcing the point that good content at every stage is vital in order to maximise the amount of prospects you have to convert.
So in what context should your content be, and at what stage of the journey should you offer it?
If we look at each stage separately we can build an idea of the kind of information people will be looking for and when.
Awareness content
This is the first step of the process when the customer determines they have a need or desire for a product so begin to look for it.  Your job is to create awareness of your business and your products so you have their attention and thus place yourself in the running.
Interest content
What's interesting about your product or service?  What is unique about your product or service?  What does your product or service do that others don't? This would be a good place to give away some educational material or facts about your topic generally.
Evaluation content
If someone is evaluating your product, what do they really want to know?  How good it is at its job, of course.  So, if you're product has received a brilliant review or endorsement, tell them.  If it used by someone famous, tell them that too.  If it has a proven track record amongst the industry, they might want to know that, and you can rest assured that they will want to know how efficient and effective it is at doing what you say it does!
Trial content
Sometimes buyers are torn between two products, so you need to help them make the right decision which could involve them trialing or sampling your offering.  Often, a prospect may need to see something working or be able to use it in "real time" against their problem so if you can offer a sample or even a demonstration video they can effectively do that.
Adoption content
Be friendly and make people want to adopt you as their "go to" for similar products and services by offering a customer service that is second to none.  Obviously basic customer service is applicable in every business and should be free, so you may need to think out of the box on this one by perhaps offering audit downloads or a money back guarantee..?
Loyalty content
So you've done a lot of hard work on this journey to turn a prospect into a customer, and there is no rest now, because in order to keep your customers in the style they have become accustomed to you need to be consistent and repeat the above process with refreshed content  every now and then.
By doing all these things you are building trust with your prospects and customers as being a valid source for information, products, advice and aftercare and in turn building a reputation as an authority voice who offers all the information a potential customer could want in one place – your website.
Next week I will look at the relationship between inbound marketing and word of mouth marketing.
Inbound Content – what to give away and when